Other annual events include citywide yard sales, Edgar Lee Masters Day, Independence Day celebration at Fulton County Fairgrounds, Fulton County Storytelling Festival at Dickson Mounds Museum, Spoon River Catfish Jamboree, The Playhouse Barn Theatre, Fall Festival, Children"s Weiner Roast at Ross Mansion Park, Spoon River Valley Scenic Drive, Fall Decorating Contest, Holiday Open House, Santa Parade, Christmas Festival of Lights Decorating Contest, and the Fulton County Fair which is held the last full week in July.
Family Fun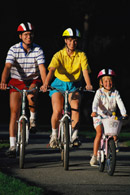 Lewistown
Other areas of interest include an antique and craft store, apartments for the mobility-impaired, appliance sales and service, attorneys, auctioneers, auto parts and supplies shop, auto repair shops, bank, beauty salon, bridal shop, cabinet and bath design center, carpet and rug cleaning services, painting and signs shop, chiropractors, clothing stores, dentist, farm equipment and repair, and florist shop.
South of Dickson Mounds is the turn-off to Lewistown. Just past this junction are several scattered buildings associated with the history of Waterford.
Waterford School, built in 1839 on the bluff southwest of its present location, was originally used as both school and church. It is the only building which remains from the old village of Waterford.
Waterford Union Church, built in 1890, is still an important part of the community. Waterford Cemetery, where many of the early settlers of the region are buried, is located on the bluff above the town site.
Waterford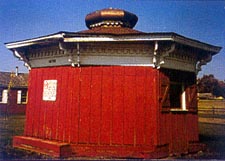 Toll Booth

Some local organizations and clubs are: Optimist Club, Association of Parents, Spoon River Professional Women"s Club, Alumni Association, VFW Post 5001, Association of Churches, Fulton County Fair & Racing Association, Boy & Girl Scouts, Society for Historic Preservation, Chamber of Commerce, Tourist Club, Community High School Booster Club, Spoon River Scenic Drive Association, American Legion Bishop Fost Number One, Masonic Lodge 104, Concerned Citizens, VFW Auxiliary, Fulton County Tourism Council, and American Legion Auxiliary.
Dickson Mounds Museum
Historic Indian Burial Grounds
Cultural influence continues in rural Lewistown at Dickson Mounds Museum. Rich natural resources at the confluence of the Illinois and Spoon rivers have attracted settlers to the area for thousands of years. Dickson Mounds, a branch of the Illinois State Museum, preserves and interprets life of prehistoric American Indians of the region.
The museum is open from 8:30 a.m. to 5 p.m. every day, and admission is free to the public.
Rasmussen Museum
Historic Blacksmith Shop
Rasmussen Blacksmith Shop was opened in Lewistown by Nels R. Rasmussen in 1882 and operated by the family until 1969. Then it was acquired with its contents intact by the Lewistown Society for Historical Preservation, which operates the building as a museum.
The old blacksmith shop is open to the public seasonally from 1 to 5 p.m. Tuesday through Sunday. On the second floor are antique vehicles and farm equipment.